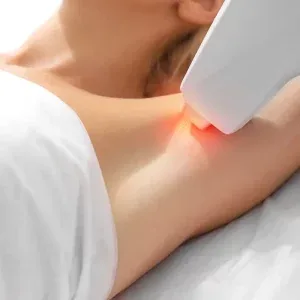 USING A COMBINATION OF PULSED LIGHT AND SmoothLED TECHNOLOGY TO
DELIVER THE BEST HAIR REDUCTION RESULTS
WHAT IS PERMANENT HAIR REDUCTION?
Dynamic Pulsed Light (DPL) and SmoothLED are effective permanent hair removal methods that makes use of heat energy to damage our hair follicles, resulting in permanent hair reduction.
​
Many of us have heard of Intense Pulsed Light (IPL), but what is DPL? What is the difference between DPL and IPL?
Here at Blush, we use DPL, which is an upgraded and improved version of IPL.
Similar to IPL, DPL makes use of a source of broad-spectrum, visible light to reduce hair permanently. A certain percentage of heat energy in DPL would be absorbed by our hair follicles, effectively destroying them. However, thicker and deeper hair follicles might not be reached and disabled effectively as the light is shone over quite a large area. This causes the heat energy in DPL to be spread out as well. Hence, the amount of hair growth reduced might not be as significant.
​
So, how does SmoothLED differ from DPL?
LED is a single spectrum of intensely concentrated pure light that would be absorbed by our hair follicles. The light from LED can be focused at a specific area and will not spread out to as wide of an area as how DPL would. Additionally, the LED beam can travel deeper in our pores, giving a concentrated blast of light to the hair follicles that are residing deep in our skin. This will help achieve a more accurate and permanent result of hair growth reduction.
For ladies who are looking for permanent hair reduction that would last, this treatment is for you.
Through this process, hair growth will be reduced permanently, which is definitely different from temporary hair removal methods, such as waxing or shaving.
DPL and LED are also suitable for those who are afraid of the stinging pain or possible ingrown hair caused by waxing.
Do shave 1 Day before your appointment. BUT - do not shave 1 - 2 days after your treatment!
The hairs would need to remain with the follicles for a few days after the DPL or LED treatment. This helps to reduce any possible opportunistic infections in the damaged follicles. The hairs will shed naturally over the following weeks.
You should apply moisturiser to keep your skin soft and to minimise itching.
It is recommended to moisturise your skin on a daily basis as for all light-based treatments, the heat energy entering your skin might cause it to become dry.
Exfoliation (if applicable to you), should be done 3 days before treatment.
Subscribe below to receive promotional offers and discounts!